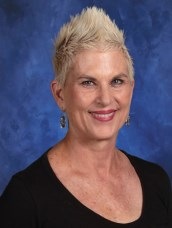 Dody Nahas
Dean of Students, Drama & Movement Teacher
Phone: (330)453-8279
Dody Nahas began her teaching career with the Hartford Ballet. She taught dance in professional and private dance centers for over twenty years. She was an Artist in Residence for six years in elementary schools in Connecticut and Rhode Island. Dody toured with The Island Moving Company in Newport, Rhode Island and more recently performed with Living Fountain Dance Company. She has spent the previous eleven years at CCDS as the Movement and Drama teacher. This is her fifth year functioning as the Dean of Student Life.
Dody is certified in Responsive Classroom I and spent a week this summer attending a one week Developmental Designs workshop on Middle School Advisories.
While dance is her passion, she enjoys pursuing other visual arts such as creating jewelry and painting decorative furniture. Dody enjoys spending time with her husband Tom and her daughters Meret and Paris. Meret is living in Connecticut working in Development at The Loomis Chaffe School and Paris, a 2008 CCDS graduate, is beginning her junior year at The College of Wooster.