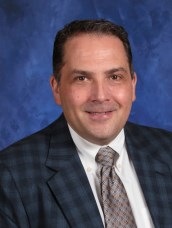 Mike Brown
Head of School
Phone: 330-453-8279
Groups: Web Site Editors
Degrees
Post-graduate

Virginia Theological Seminary
Mike Brown is a head of school with a proven track record for helping schools identify their strengths in order to build a strong, vision-oriented culture. Before moving to Canton, he doubled the size of his last school and transformed it into a highly sought-after environment during a time where most schools were declining or remaining flat in their enrollment.
Mike has worked in the field of education for almost 30 years, gaining experience by leading educational programs as a National Park Ranger, a Youth Minister, teaching preschool through middle school in multiple subjects, and serving as a school administrator. As a seasoned educator, Mike is passionate about making sure schools operate for the best interest of their students and creating a safe, inspiring and caring atmosphere for them to stumble, grow, and learn on their path to becoming educated and devoted citizens of our communities. In addition to his work in schools, Mike is also involved in various service organizations, serves on multiple non-profit boards, and has recently been involved in publishing a national guide on helping schools prepare and navigate through situations of educator sexual misconduct. Outside of the school, Mike enjoys being outdoors with his family, fishing, photography, playing the piano, and experimenting in the kitchen! He has also spent several years taking adults and students to Haiti where he is helping to develop a school in a remote part of the country.
As the Head of School at Canton Country Day School, Mike loves helping teachers rediscover their passion for teaching. He is the proud alum of the University of Southern California (Sorry Buckeye fans!) where he earned his bachelor's degree, Pepperdine University and Saint Leo's University where he earned his master degrees and is currently working on his doctorate in Educational Leadership. When he is not working at school, you can usually find this native Californian browsing in a bookstore, spending hours in a museum, or throwing the Frisbee for his family dog, Maddie.