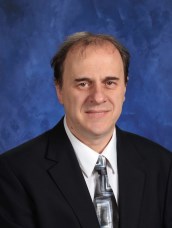 Lucian Barbur
Director of Technology
Phone: (330)453-8279
Groups: Web Site Editors
Degrees
College

Politehnica University of Timisoara
Lucian has returned full time to the school environment after 14 years of industry experience and he is enjoying working with the CCDS team and sharing his knowledge and passion for the computer technology field. Lucian joined CCDS in July 2014. He is an IBM certified specialist with various other industry-recognized certifications. He also teaches computer classes at Stark State College.
Lucian and his wife Ana, Vice President of Chemical/Analytical Services at ARDL, Inc., reside in Green. Their daughter Iulia attends The Johns Hopkins University School of Medicine, located in Baltimore, Maryland, while their son Alex, an OSU graduate, works as a Dev Ops Lead Software Engineer in Columbus, Ohio.
Iulia and Ana enjoy working together in the STEM fields. Iulia has reached the state level of the STEM Science fair competition six years in a row while being awarded numerous prizes and scholarships.
Whether through science, education or travel, the Barbur family enjoys spending time together.